Microsoft Teams Problem Description
You attempt to access Microsoft Teams from a desktop app or from an internet browser and receive the message:
You're Missing Out! Enable Microsoft Teams for Your Organization.
More specifically, if you are trying to get to Teams in a browser, you see the following error message in the callback URL:
Error:AdminTeamsDisabledForTenantForbidden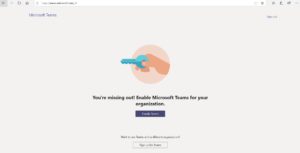 How to Fix Error: AdminTeamsDisabledForTenantForbidden
You're missing out! Enable Microsoft Teams for your Organization.
Microsoft is migrating away from Skype for Business. They recently migrated my Office 365 Business account to Microsoft Teams. However, when I tried to login to Microsoft Teams via the desktop app or in a browser the screen would say: "You're Missing Out! Enable Microsoft Teams for Your Organization." When I tried to access teams via the browser at teams.microsoft.com I also noticed the error code in the url: "AdminTeamsDisabledForTenantForbidden".
Unfortunately, a few hours with Microsoft support was not helpful in resolving the problem. But, I was able to dig through the many layers of Microsoft's settings and admin pages to discover the problem, and solution. Here's the solution.
Error Code from URL Response
Note, the "You're Missing Out! Enable Microsoft Teams for your Organization." message can appear for many different reasons.
To get more information about what the problem is, try logging into teams.microsoft.com in Google Chrome. (Note: The error message was stripped from the url in Microsoft Edge's browser.) Then, take a look at the error code that appears in the address bar. This error code will give you (a little) more information about the problem.
In my case, the error message was: AdminTeamsDisabledForTenantForbidden. Your error message may not be the same. In which case, this solution may not work for you.
How to Fix AdminTeamsDisabledForTenantForbidden Error
Go to your Microsoft 365 Admin page (https://admin.microsoft.com/AdminPortal/Home#/homepage)
In the menu that goes down the left side of the screen, click Roles
When the Roles screen appears, click Teams admin
A Teams admin window will now appear on the right side of the screen
Click Assigned admins
Make sure you have at least 1 assigned admin for Teams
If there aren't any admins assigned

Click add
Type the email address for the person you'd like to make admin
Click save

Try to open teams again via the browser at https://teams.microsoft.com
Good luck!
---
Looking for tech support? We specialize in software such as Microsoft 365, Access, Excel and VBA. We work directly with end users, providing support for their programs and services. In addition, we work with many IT companies around the US, providing professional white label service to their clients. Contact us to learn more.